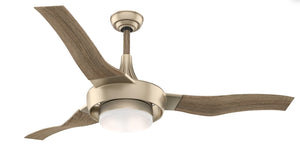 Named after the star constellation and inspired by 21st-century spacecraft design, the Perseus is a shining example of a formal, yet contemporary ceiling fan. The interplay between the earthly wood blades, floating ring, and celestial metallic body is a cosmic approach that's carried throughout the design. Constructed with stainless steel hardware to withstand the elements, this damp-rated fan is the perfect addition to any areas exposed to moisture and humidity like your large sunroom, patio, or bathroom. Dimmable, energy-efficient LED bulbs produce a soft light while the reversible, four-speed Direct Drive™ motor delivers unparalleled power, silent performance, and reliability over decades of daily use. The Perseus fan includes a convenient wall control that allows you to change fan speeds and adjust the lighting with ease.

Damp-rated ceiling fans are a great option for covered patios, screened porches, and other areas that are not directly exposed to rain, snow, water, or moisture
- 1 bulbs included
- Wall control included
- 3 Drift Oak blades included

LIGHT OUTPUT: Provides bright, warm light.

EASY CONTROL FUNCTION: Use the control to adjust the fan speed and dim the light.

WHISPER-QUIET MOTOR: 4-speed, Direct Drive reversible motor for optimal performance in summer.
**** This fan has additional downrod lengths and finishes available.
We love to assist in your selection, contact us to customize your fan. 
Phone:  (502) 454-8938 
Email:   sales@alcottgallery.com